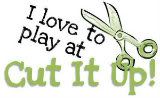 White as Snow (with a dash of color)
Sponsor:
$20 Coupon Code
My Project:
Welcome to another challenge over at Cut It Up!!!
For this challenge we want to see white (in honor of winter/snow), but also add a dash of color. I used this opportunity to make a Valentine's card. When working with white mats, the best way to add texture/ dimension to them is to emboss!!! That's my personal preference anyway :) I used two embossing folders for this card - Cuttlebug's Floral Fantasy and Paper Studio's Medium Polka Dots. My heart shape/image comes from Art Philosophy. I hope you are able to join us for this challenge, I'm anxious to see how you make your white cards "pop"!
Thanks for checkin' in!!!