Bring On The Glitter!
Sponsors: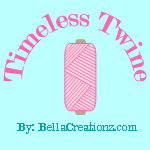 My Project:
First off, sorry this is so picture heavy!!! I was trying to get my pictures to show how glittery this card really is, and it took more than one :)
Anyway, over at
Craftin' Desert Divas
it's all about the Glitter!!! I LOVE glitter paper so I was excited to be able to use some from the DCWV Glitter Mat Stack. My niece recently turned 8 and was baptized, my family and I are LDS so this is a pretty big milestone! My mom asked me to make a card for her for this occasion and this is what I came up with. I printed the sentiment "
I Like To Look For Rainbows
" from my computer and I used this sentiment because it comes from a favorite Primary song that the children like to sing about Baptism. The rainbow is from Create A Critter and I just used some white silk ribbon from American Crafts. My sentiment on the inside comes from CardzTV "Happy Days" stamp set.
Thanks for checkin' in!!!