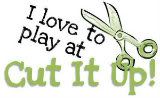 Winter Fun (Blue & White)
Sponsors:
$10 Gift Card
Stamp Set
My Project:
I am loving the Olympics!!! So in honor of them AND how completely inspired I was watching Noelle Pikus-Pace win the Silver Medal in the Skeleton event I created this card. I may even send this card to her, she only lives about 10 minutes away from me and we probably shop at the same grocery store, but I've never met her. She was just so inspiring, her story and her attitude, just everything about her inspired me, and this is what came of it.
I cut the sled from Stretch Your Imagination at 2" and popped it up on some foam tape. The blue glitter paper I used for the snow is from Colorbok from Wal-Mart. The blue and silver glitter polka-dot paper was just in my stash - not sure where it came from :) I rounded the corners of the background mat with my large corner rounder from Hobby Lobby. Then I used Art Philosophy for the snow swirl behind the sled (cut at 1") and the tag (cut at 3 1/4"). The stamp on the tag is from the True to Life Everyday Life Stamp set that is featured in the new
Spring/Summer Close To My Heart catalog
on page 20. This stamp set coordinates with cuts featured in Art Philosophy.
After watching Noelle win Silver I think the sentiment "First Class Fun" describes her and her victory perfectly!
I hope you are able to join us over at Cut It Up for our Winter Fun Challenge to use Blue and White on your projects...and be sure to check out all the Design Team's projects - as always - AMAZING!!!
Thanks for checkin' in!!!
And if you are interested in purchasing the CTMH Art Philosophy Bundle or any other CTMH products, you can order them from me
HERE!