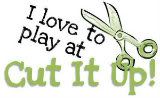 Challenge #44
Mother's Day
Sponsors:
$20 Coupon Code
$10 Gift Certificate
My Project
Happy Friday!!!
Hope you all survived the week and are ready for the weekend!!!
Today over at
Cut It Up
we are starting a new challenge and, yup, you guessed it
Mother's Day!
For my project I decided to follow the sketch from
Mojo Monday's
Tall & Skinny they have going on this week. My papers come from ColorBok (Walmart), Imaginesce, My Mind's Eye, and Authentique.
The image is from Forever Young, it is one of the Emblems that this cart has, it's under "model 11".
My flowers are from Prima and the pearls are from Recollection's.
The ribbon is from American Crafts.
I LOVE pink so when I decided to follow along with
My Craft Spot's
challenge of black and white plus ONE color, it had to be pink!
I am also going to link this up over at
I hope you will join us over at
Cut It Up
for our Mother's Day challenge,
you have until Wednesday, May 14th at Noon EST to link up!