Can you believe that we are already talking Christmas?!?!
Yup! That's right, Christmas in July!!!
And with this heat that we've been having,
snow is sounding mighty nice right now -
well, no, not really :)
But we really are celebrating
"Christmas in July"
for this new Linky Party!
Christmas really will be here before we know it,
so why not get a head start on some of your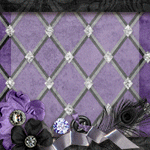 3 Millimeter Diamond Chain
Here is my Project:
I used the adorable little snow bunny from the
Winter Woodland cartridge because it goes
perfectly with the sentiment "Snow Adorable" :)
Tara's Holly Day Punnies are FABULOUS!!!
You can purchase these
HERE
.
I used pink polka dot paper from Authentique and
pink glitter paper from ColorBok (Wal-Mart) for the bunny.
The b/g and mat papers are from My Mind's Eye
"Merry Little Christmas" 6x6 pack.
The glitter dots are from Recollections (Michael's).
The mat is also cut from Winter Woodland and it is
popped up on some foam tape, as well as the bunny.
I can't wait to see what Christmas projects you come up with,
I am looking for some early inspiration this year :)
Thanks for checkin' in!!!