I hope you are ready for another challenge today!
Our amazing Sarah has chosen a super fun theme too!
Here is all the info: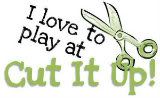 Shaped Cards with a Twist -
Holy Moly, I first have to tell you that I am SUPER lucky
to have had my 5 year old pick out the image for my card today!
I knew the challenge was a shaped card,
but I totally missed the part about it
needing to feature an ANIMAL!
I seriously don't know how I missed that :)
Anyway, I knew I wanted to make a little boy Birthday card.
I also knew that I had some AMAZING paper
I wanted to used from My Mind's Eye called
Boy Crazy - a 6x6 pad.
Naturally, with this paper I wanted to put to use
my Robotz Cricut Cartridge because
they really were made for each other :)
So I had my son come in and pick his favorite image
from the cart and I really wanted him to choose a robot,
but he was set on using this Dog-Bot.
I am SO GLAD that he did,
because I would have totally had to re-do my card - LOL!!!
And a Dog is a Dog even if in Robot form right :)
Here is the inside:
I also used Art Philosophy for the shaped card and
arrow on the front.
I used CardzTV stamps for both my sentiments
"Going In Circles" & "This N That"
I also used some Enamel Dots from Recollections
on the front of the card.
Seriously LOVE these embellishments.
This was a super easy card to put together,
and I have a video to show you how I made it...
I hope that you will join us for this super fun challenge!
And don't be like me a completely miss using an Animal :)
I am also going to enter this in over at
Thanks for checkin' in!!!