Welcome to Craftin Desert Diva's Holly Jolly Christmas Blog Hop!!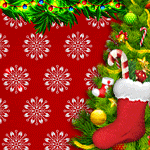 I'm so happy that you could join us today! If this is the first time that you have hopped with us, you will not be disappointed. This is the Craftin' Desert Divas design team's first hop and I have to say my fellow design team sisters are all AMAZINGLY talented.
This is Day 1 and the start of the Holly Jolly Christmas Blog Hop! You will not only get some inspiration, but you could win GREAT prizes, too!! You must FOLLOW and COMMENT on all of the stops, both days, to have the chance to win.
Here are the wonderful sponsors for this hop...
For this two day hop each blog will be offering a prize from one of the sponsors listed above!!! You must visit each stop both days to be eligible to win. Winners will be announced on Dec 18. The entire winning list will be posted on Craftin Desert Diva's website.
My sponsor for today is..
Here is my project that I've created....
I decided to create a Home Decor piece using a 6x6 tile from Home Depot. I used Mod Podge to adhere the pretty green background paper. My present comes from the Celebrations cartridge and I have to say it is my MOST FAVORITE present cut that I have!!!! My pattern paper is from Hobby Lobby open stock 12x12. I cut it at 5" along with the shadow, which was cut out of some cream cardstock. I inked around the edges of both my green b/g paper and cream shadow using Tim Holtz Tea Dye Distress ink. My tag was created by printing the saying "The Magic of Christmas is not in the Presents but in His Presence" on some cream cardstock just from my computer. I cut it to the size I wanted, then just rounded the corners on one end with my large corner rounder from Hobby Lobby. I also inked around my tag with the same ink. My sheer cream ribbon is also from Hobby Lobby and I premade then attached the bow with a glue dot. I used foam tape to pop up the present off of the tile for some added dimension. My two red flat back pearls are from Michael's. I really love the simplicity of this decor piece, and I LOVE the message!!! I hope you become a follower and continue (or start) the hop!!!
Thanks so much for hopping with us this weekend!!!
Saturday Dec. 14 Line Up
(in case you want to start at the beginning or get lost along the way!)
Sponsor: KaDoodle Bug Designs

Sponsor: Jaded Blossom

Sponsor: CardzTV

Sponsor: Designs on Cloud 9

Sponsor: Fleurette Bloom

Sponsor: Lawn Fawn
Sponsor: My Scrap Chick

Sponsor: Sparkly Sweet Craft Notions

Sponsor: Tombow