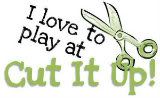 Challenge #40
GREEN (St. Patty's or Spring)
Sponsors:
$20 Coupon Code
$25 Gift Certificate
My Project:
Thank Goodness It's Friday, right!!!
Seriously, when is the last time you saw that all written out :)
But, YAY for Friday!!! And not just because it's the weekend,
but because we are starting another challenge over at
Cut It Up
!
We want to see all things GREEN!!!
You can do a St. Patty's Day card or a Spring card.
I decided to make a Good Luck card - that's close enough to St. Patrick's Day, right?
I have a video to show you how it all came together so I hope you'll watch!
And be sure to head on over to check out all the Design Team's creations - you won't be disappointed!!!
Thanks for checkin' in!!!