HIMCR
Challenge #141 - Color It!
Sponsor:
$20 Gift Cerificate
Laurie, who is so generous, is also going to give away to a second winner
a three set of Copic's that she personally bought from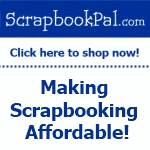 My Project:
How cute is this digital image from The Paper Shelter? I LOVE it!!! A girl after my own heart!!!
For this week's Color It! Challenge I decided to use some colored pencils and I think it turned out okay. My papers are from my scrap stash, so I can't be certain, but I think I bought a .99 cent 12x12 pack from Walmart that these were in. I used some American Crafts twine and my sentiment is from a Cupcake Stamp set I bought from a local craft store, but are now out of business. I cut my mats out with Spellbinder's and my Cuttlebug. I hope you will join us over at
HIMCR
this week for our Color It! Challenge and be sure to check out the
Paper Shelter's
selection of digi's - they are AMAZING!!!
Thanks for checkin' in!!!