Hey All!!!
I hope you had a fabulous weekend and are ready for a new week!
It's A Sketch!
Sponsors: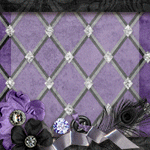 One Stamp Set
$10 Gift Certificate
$10 Coupon Code
&
$10 Coupon Code
(YES! There are 2 up for grabs this linky party!)
My Project:
I had a lot of fun making this card!
I LOVE the papers from My Mind's Eye Quite Contrary!
I used the LadyBug from Paisley and
put her on an Action Wobble - SO FUN!!!
The enamel dots come from Recollection's (Michael's)
The sentiment stamp is from Craftin' Desert Divas
Lil Bit Buggie stamp set.
Here is the bug in Action...
Thanks for checkin' in!!!